I didn't get the tree, even though I prayed hard and believed it would be mine.
Several years ago, I participated in one of those home tours where beautiful and historic houses are decorated by members of the Junior Service League as a fund-raising activity.
One of the houses sent me into covet mode. From the moment I entered, I knew this was my kind of house. In fact, I knew the owners. They were members of my church – the perfect family, the perfect couple. Tall, thin and both of them professors at the local college. I envied not only their house, but also their life together. I wanted my life to be that content, and I desperately wanted to live in their house.
I know – we're not supposed to covet our neighbor's house. But on that particular Christmas season, I did it anyway.
The entrance opened into a large living room – on the right, a Mission style staircase leading to the upper floor which had one entire wall of bookshelves filled with all sorts of books.
To the left of the living room stood a grand piano – one of my life-long dreams. The master bedroom had its own fireplace and an expansive window that opened to the back forested area filled with various Kansas-style trees and salt licks for the deer.
To the right of the staircase lay the room I coveted most – a study with a desk, windows on the north and the east, the perfect place to write. I could see myself writing there – actually envisioned myself at that desk, watching the morning sunrise turn from pink to coral to turquoise as I pecked away on my laptop. A love seat perched against the opposite wall, a place to sit and edit and think about the next chapter. Oh, my!
Off the study was an incredible kitchen / dining area / family room with a massive stone fireplace and a mantel that held all the stockings for this happy family. A mudroom led to the garage area, but on the west side – patio doors opened onto the deck.
Then I saw the tree. The owners cut down a small pine and loaded it with bird seed ornaments and treats for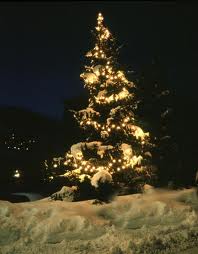 squirrels and deer. Such a beautiful way to celebrate the outdoors and feed God's creatures, and I vowed to myself that someday I would do the same – erect an outdoor Christmas tree for the animals.
So when I entered a bookstore that was liquidating its assets and saw the metal spiral Christmas tree – I knew it was mine. Finally, I would put a tree on my deck and fill it with bird seed ornaments, bread crumb stars and peanut butter-slathered bagels for all the little animals.
But at $40, it was too expensive. I asked the owner, "Would you possibly take $20?"
"No, because I'm trying to make as much as possible on this liquidation. But come back closer to Christmas and we'll talk again."
So I went home, made plans for that tree and prayed. I knew it was supposed to be mine. I felt joy and anticipation as I imagined it on my deck. It gave me hope that even though I did not have the perfect happy family nor that beautiful house with the grand piano or the absolutely wonderful writing study – I could at least have the tree outside.
So I went back this week, to negotiate again with the owner and discovered that the tree was gone. Someone paid the full price and took it away. I drove home dejected, crying through the blur of Christmas lights.
But God said, "Don't give up."
"What does that mean, God? The tree is gone. It was perfect and there aren't any others. What do you mean, 'Don't give up?'"
I think he meant that hope isn't just centered on a replica of a dream, on a metal tree that represents somebody else's life. Hope is focused on the actual dream and on living the life of that dream.
Maybe there is another tree somewhere for my outdoor friends and a house in the country with the perfect writing study, a grand piano and a wall of books. Maybe there is another life for me that includes happiness, peace and love.
I will leave it up to God and stay in hope, because that is the best place to be.