In a post last summer – https://rjthesman.net/2012/06/22/the-qlb-in-taos/ – I talked about the quaint little bookstore in Taos, "Moby Dickens." Don't you just love that name? This wonderful bookstore with a Southwest flair sports hundreds of shelves filled with all types of books.
Here in the heartland, we have several QLBs that I would like to promote for Christmas.
Herald and Banner Books at 74th and Metcalf, Overland Park, KS. As you drive up to this building, it seems nondescript with its brown and red brick exterior. But once you enter the doors, it is apparent that this bookstore contains the latest in Christian literature as well as many types of faith-promoting items.
It's the atmosphere that strikes you first. I could actually feel the spirit of God in that place, and even after an hour browsing through the aisles – I hated to leave. If you're in the area, reserve an hour or so for Herald and Banner Books.
Faith and Life Books in Newton, KS, also carries the spirit of peace and joy. This is a lovely bookstore with decorations that took my breath away and made me want to run home and redecorate.
I saw this bookstore at the brink of the Christmas season and was so enthralled with their creative use of natural items to decorate the trees. Because I was on a limited time schedule, I didn't have enough time to really experience everything in Faith and Life. It's on my bucket list to return.
Signs of Life Gallery in Lawrence, KS contains a unique shelving of Christian books along with a grand piano on the main floor. Whenever I visit Signs of Life, I have to force myself not to sit down and play Für Elise. Upstairs is an art gallery, hence the name, "Signs of Life Gallery."
Other rooms contain tables and chairs, spaces for Bible studies and meetings of any kind. Plus, this bookstore has a coffee bar, so one of the main draws is the soothing smell of mocha and chai.
Hastings in Enid, OK. Although Hastings is a chain bookstore, this one has the feel of a QLB. Also graced with a coffee bar, many of my Okie friends frequent this store and plug into the wifi while sipping from a large assortment of comforting lattes. Hastings also sports a large electronics section, DVDs, CDs and tapes from the latest musicians.
The Gift Shop at Olathe Medical Center. A hospital gift shop has one purpose – to provide a place filled with beautiful things that somehow encourage patients and/or their families.
The staff of OMC work hard to include lots of gifts that celebrate the Christmas season, share joy and instill hope in customers. This shop is so beautiful, it's worth a trip out to the southwest side of Olathe, KS, just to see it.
What do all these QLBs have in common and why do I want to promote them during this Christmas season?
Because all of them employ managers who gave my book a chance.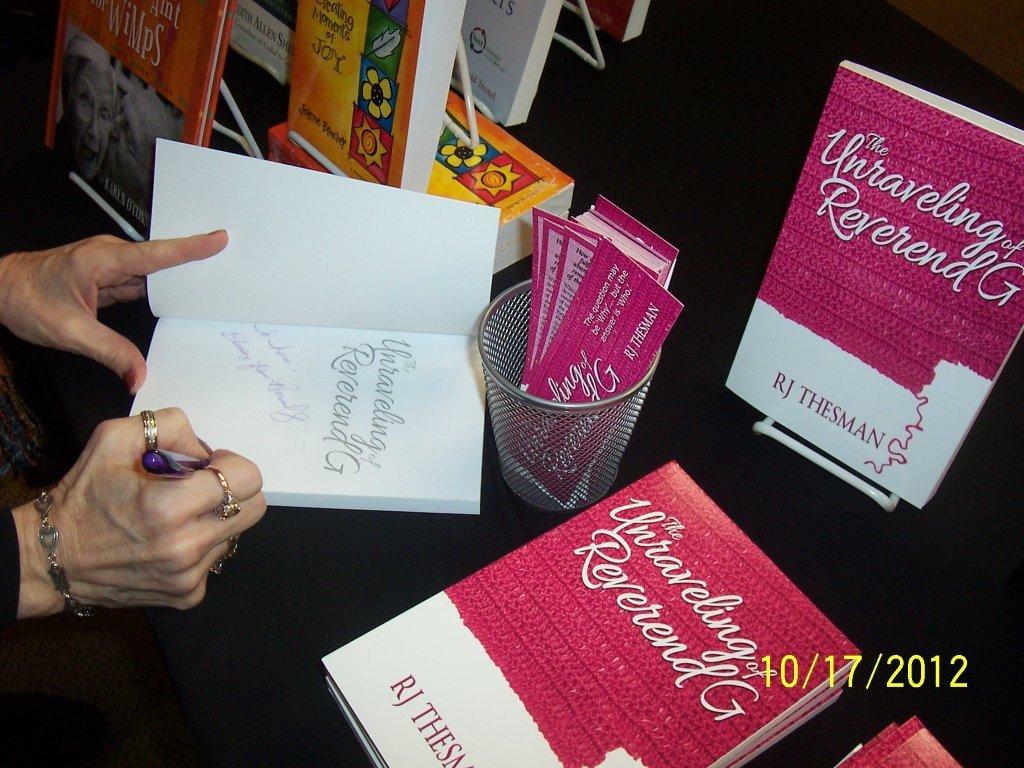 All of these QLBs currently hold copies of "The Unraveling of Reverend G," so I'm hoping that my readers will encourage the staff and buy a book for Christmas.
After all, for those of us who love QLBs, this is the perfect opportunity to support them as they continue in business.
God bless the managers of these QLBs, not only for taking a chance on me, but also for spreading the beauty of Christian fiction.
© 2012 RJ Thesman