Most writers do the work because we can't help ourselves. We can't NOT write.
And when the words morph into sentences, then paragraphs and chapters – we feel an adrenaline rush that keeps us coming back to the computer for more.
We want our words to carry a message, and we long for readers to find our work irresistible – merely for the beauty of the language.
I read certain writers for this reason: Kathleen Norris, Anne Lamott, Dallas Willard.
But if we are brutally honest, we also want our words to be recognized – by our readers and even by people who do not personally know us.
I have worked hard to make my book describe the journey into dementia and Alzheimer's, from the viewpoint of my character. I appreciate those who have told me how much the book means to them, how it has encouraged them as caregivers and how they look forward to the next book in the series.
The Unraveling of Reverend G has been nominated for a Grace Award and while I am humbled, I am also excited. This nomination encourages me to continue typing my words into the computer. The award might boost online sales and move me higher on search engines. An award mention on promotional materials…well – that would be mighty fine.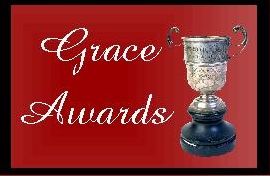 The Grace Awards panel responds only to the books who have the most nominations. Those are the books they will read and determine whether they are given an award.
So…if you haven't voted yet, here is the process:
1.Title of book: The Unraveling of Reverend G / RJ Thesman
2.Category: Women's Fiction
3.Tell why you like the story in 35 words or more.
4.Include the link to your Facebook account or your web address, Twitter or LinkedIn – anything so that they will know you're a real person.
5. Send this information in an email to [email protected].
I'd like to thank all my readers for this great honor. I'd like to also thank my parents and my son as well as the cat who is the inspiration for Gabriel. Finally, I'd like to thank the Academy….
©2013 RJ Thesman