Every towel in Mom's house was worn thin and bleached out. Drying off after a shower felt like rubbing sandpaper all over my body – great for exfoliation, not so great for comfort.
So I decided to update my mother's towels. I bought Mom a beautiful set of pastel blue towels, embroidered with a band of royal blue flowers. Blue – her favorite color, and a bargain at K-Mart.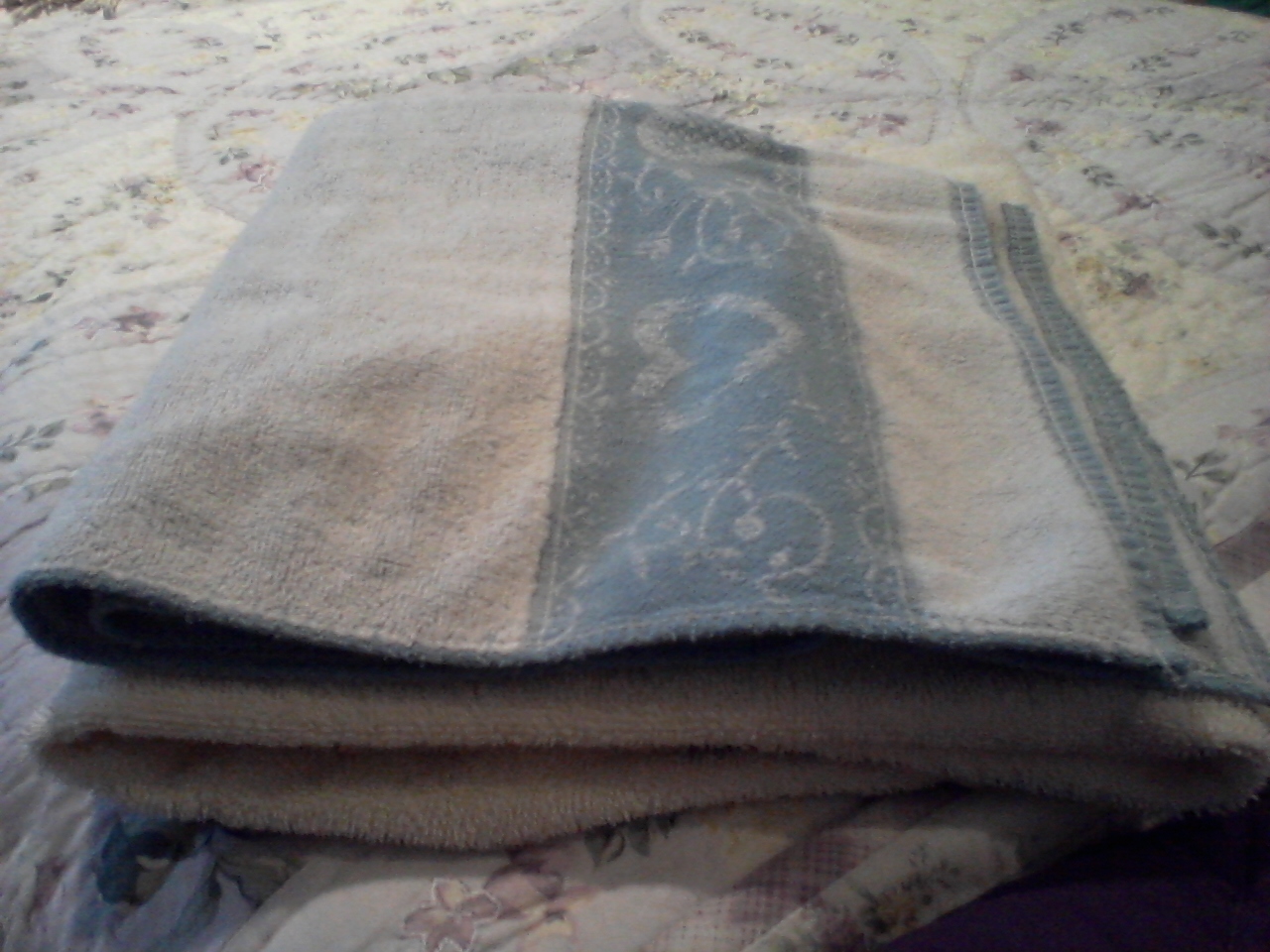 She loved the towels and promised to use them. I planned to buy her another set for her birthday, then Mother's Day and Christmas – to gradually help her replace all her towels.
But Alzheimer's set in, and Mom forgot where she put things. She started to hoard and hide. She gave away things she was supposed to keep and kept items that should have been trashed.
Her pots and pans? A daily search for the right cabinet. Her car registration form? In the bottom of the dumpster. The beautiful towels I gave her – a mystery.
When I visited, I asked her, "Where are the pretty blue towels? Haven't you been using them?"
"Oh, I don't know," she said.
We searched in all the logical places: the linen closet, the laundry, even the top of Mom's closet where she hides things she might some day use. No blue towels anywhere. I wondered if she gave them away or if they somehow landed in the trash can.
I wavered between anger at the loss of my gift and sadness for the disease that stole away so much of my mother.
What was the point of buying new towels for someone who forgot where she put them? Once again, I dried off with the same old sandpaper fabric.
Then we had to admit Mom to the assisted living facility where someone else took care of her laundry, including her towels. She seemed content. No worries and no memories.
The next time I traveled to Oklahoma, I stayed night in the family home. "Look what I found," my sister said as she handed me a bundle of fuzzy comfort. Once Mom moved out of the house, it was easier to find things she had hidden in corners and crevices.
I hurried to the privacy of the bedroom, buried my face in the beautiful blue towels and grieved for another lost piece of my mother.
©2013 RJ Thesman