When a family is dealing with Alzheimer's, holiday memories often center around the good times and particularly – food. One of my favorite memories is making peppernuts with Mom.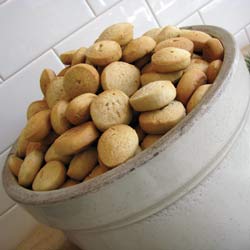 The smell of cloves, nutmeg and cinnamon merged together with enough flour to break my arm when I stirred the giant bowl full of dough. We started on the peppernuts right after Thanksgiving when the kitchen was the warmest room in the house and the Oklahoma winds howled around the window frames.
Mom added the ingredients while I stirred, again and again. More cups of flour – practically an entire sack full. The recipe called for a "stiff dough" – no definite measurements.
But Mom knew exactly when to quit adding flour as she pinched off a piece of the dough and handed it to me. "Not too sticky," she said. "You have to be able to roll it into a tiny ball." Even now, I know exactly when to stop adding ingredients and begin making those tiny Christmas treats.
Peppernuts ("pfeffernusse" in the traditional Mennonite German lingo) are a phenomenon that traveled with my ancestors to America. With the traditional Christmas spices, including pepper, they taste great with coffee or tea. And with time, they harden into tiny bits of yumminess that will last for years in a glass jar.
Each family seems to have its own recipe. Some add anise, to give a distinctive licorice flavor while others focus on more of the spiciness. Our family was the latter as we doubled the spices for each single recipe.
It takes an entire day to make peppernuts, but that is one of the secrets to their flavor. Those of us who make them know the time and effort required. So they are a gift of not only taste but also of quality.
I often make mine while listening to Christmas albums and revel not only in the music but also in the memories of family life. Dad, sitting in his recliner, his head turned to catch every note from the violins on the stereo. Mom with her wooden spoon in hand, directing the work in the kitchen. My siblings sprawled next to the Christmas tree, reading books or dreaming about the presents soon to be bought and wrapped.
After the peppernuts baked, we stored them in giant jars. Then as Christmas neared, we transferred them to smaller jars and wrapped colorful bows around the lids. The mailman, the piano teacher, the school teacher, friends and other family all received peppernuts every year.
And now…I bake my peppernuts and think about the past…about the changing of seasons and the traditions that still endure.
The secret to our family peppernuts? Double the spices and triple the love.
©2013 RJ Thesman – "The Unraveling of Reverend G" – http://amzn.to/11QATC1