As I entered the assisted living facility and walked down the hallway, I heard Mom's television. I knew what I would discover even before I knocked on the door.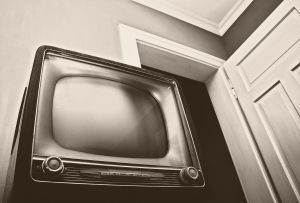 Mom sat in her maroon recliner, watching but not really comprehending the images on what she calls, "The Idiot Box."
Television was never a revered object on the farm. In fact, the set was turned off after the evening news so that my siblings and I could finish our homework or start reading a new book. The only sound in the house came from the old stereo and Dad's many classical albums.
So nowadays, it seems odd that Mom's television booms its sounds not only throughout her room, but also down the hallway.
Whether from boredom or loneliness, the need for some type of humanity in her room, Mom turns on her television and powers up the volume. Her hearing has slowly declined.
She does not use her hearing aid because it only gets lost or in her mind – stolen. Truthfully, the design is not easy for older folks with shaky hands as the tiny battery has to be removed after each wearing and replaced every time she inserts it into her ear. The order of tasks seem impossible, so Mom just ignores it and goes without.
My sister is the keeper of the hearing aid, so she takes it home for safekeeping, then instructs Mom all over again every time she needs it.
Mom turns up the volume on her television and mindlessly watches shows she cares nothing about. I turn down the volume so we can talk.
"I hate the TV," Mom says. "I'd rather read a book." She points to one of the many books in her stack that she reads over and over again, reaches for one of the Reader's Digest condensed versions and opens it. Occasionally, she looks at me and asks one of the many questions we have just talked about.
The core values of the Alzheimer's patient do not always coincide with their behavior.  What the heart and mind believe does not always jibe with action.
So Mom's television is another reminder of the difficulties of communication. When Alzheimer's overshadows a behavior that is not consistent with life's memory, all we can do is seek patience and another level of understanding.
The television is now Mom's companion, the noisemaker in the room, but it will never replace the life story of a woman who read voraciously and made sure that her children also learned to love books.
©2013 RJ Thesman – "The Unraveling of Reverend G" – http://amzn.to/11QATC1