Today I welcome a writer who shares the same publisher with me, Cross River Media. Angela D. Meyer is the author of "Where Hope Starts," a story about God's redemption in the middle of a crumbling marriage. Angela lives in Omaha, NE with her husband of more than 22 years. She home-schools their daughter and recently graduated their son who is now off to the Marines. She has taught Bible classes for over 35 years and served for almost three years on the leadership team of her local Christian writers' group. Angels loves God, her family, the ocean, good stories, connecting with friends, taking pictures, quiet evenings and a good laugh. Someday she wants to ride in a hot air balloon and vacation by the sea. 
 "I will give you the treasures of darkness, riches stored in secret places, so that you may know that I am the LORD, the God of Israel, who summons you by name." Isaiah 43:3 (NIV)
I worked in the kitchen and attempted to bury my emotions. I don't remember the exact circumstances, but I do remember feeling sorry for myself. I tried to dump chicken bones into a garbage bag, but spilled them onto my freshly cleaned floor.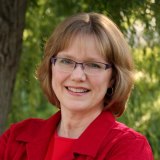 Past overwhelmed, I bent to clean up the mess and began to cry out to God. His peace crept into my heart.
God used a moment of despair to bring me to my knees: the place I needed to go to find my strength. I couldn't help but laugh. The method was not my favorite. Who wants to clean up old chicken bones? 
God's ways may not be conventional or expected, but He does redeem our seasons in the valley. Some of the blessings I have uncovered when I turned to God during the dark times include:
Strength. When we stop trying to do everything ourselves, God steps in and supplies the strength we need. He is stronger than anything we face.
Peace. Once we experience His presence with us through the dark places, trust comes a bit easier. We can rest assured that no matter the circumstance, He keeps us in the palm of his hand.
Wisdom. Experiencing God's provision first hand gives us an understanding of His character. This translates into other situations and teaches us how to behave in a way that brings glory to God.
Gratefulness. When we intentionally take notice of all that God is doing around us, even in the middle of a trial, it helps us pull our head out of the muck and be grateful.
The times I need Him the most seem to be the most difficult to let go of my will. But it's worth it to allow Him to fill my heart with blessings.
"When you pass through the waters, I will be with you; and when you pass through the rivers, they will not sweep over you. When you walk through the fire, you will not be burned; the flames will not set you ablaze." Isaiah 43:2 (NIV)
 What blessings have you found in the dark places of your life?