On a deserted Oklahoma road, I traveled alone.
Then I saw them coming from a distance – the slight movement in my peripheral vision to the right, so I slowed down to 20 miles per hour. Since no cars approached on either side of the highway, I stopped my vehicle, held my breath and watched.
A majestic five-point buck looked briefly toward my car, then scampered across the road. Only when he reached the other side did he look back. The doe watched him, depending on her mate for safety and as he looked back at her, some secret signal passed between them.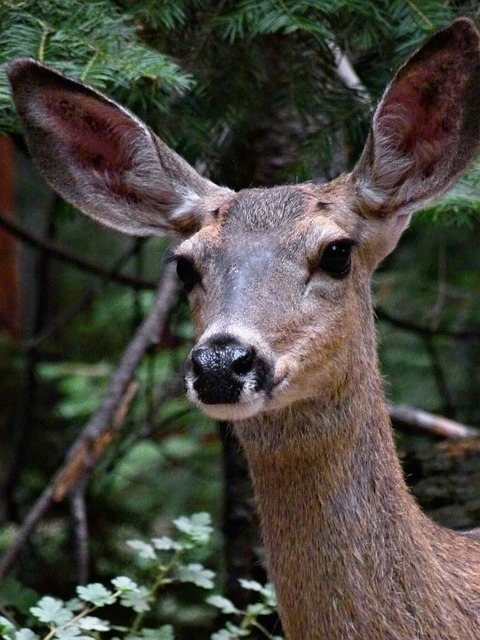 She then hurried across the highway. Together, they loped into a shaded area on that side of the highway, hopefully – to live happily ever after.
I moved the car's gear into "Drive" and slowly moved forward, one hand on the steering wheel – the other on my heart. Then I worshipped God.
He allowed me to see that beautiful moment. If I had left Mom in assisted living even five minutes earlier, I might have missed that moment or I might have hit the buck as he bravely stepped onto the highway.
God often sends worship nudges to me through nature. But I rarely see a deer couple, the buck and the doe, traveling together. Never have I observed such a connection, such an obvious signal, between the two.
Fresh from visiting Mom and thinking about her and my dad, God allowed me to see an animal relationship in the beauty of a winter morning. He encouraged me and reminded me that the husband rightly protects his mate.
God – my heavenly husband – takes care of me. He goes before me, preparing the way and making sure no danger exists. Then he gently calls and waits for me to follow him. As long as I keep my eyes on him and wait for his signal – then I cross safely into the next area of life.
These majestic yet graceful creatures reminded me that no matter how confused Mom grows in her Alzheimer's journey, no matter what kind of circumstances I face, no matter what the journey of life holds – there is a greater power that goes before me and prepares the way. I can trust my heavenly mate to watch out for me.
In our chaotic world, that sacred moment with the deer encouraged me. Order does still exist within the circle of life and God still sends his messages amid the confusion.
©2013 RJ Thesman – "The Unraveling of Reverend G" – http://amzn.to/11QATC1