She has been one of my favorite authors – forever – and I think I have read everything she ever wrote. For years, I listened to her "GateWay to Joy" devotions on the radio, mesmerized by her mellow voice and inspired by her story.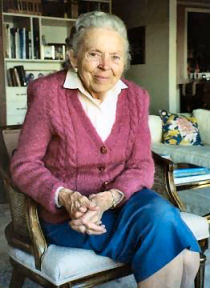 Elisabeth Elliott was one of the wives of the missionaries who were killed by the Auca Indians in 1956. I remember sitting in church when the news came in. Even then, I prayed for Elisabeth and her infant daughter.
But what really inspired me was how Elisabeth stayed in Ecuador and continued to minister to the Indians. She even allowed one of her husband's killers to baptize her daughter, Valerie. The killer, of course, was by then a genuine Christian – but what level of forgiveness is that? How in the world can a mother trust her child to a former murderer? Elisabeth's story was one of complete redemption and restoration.
When Elisabeth returned to the United States, she filled her days with writing and speaking. That was how I began to know her – through her words, through the wisdom contained in the pages of her books.
Oh, how I wanted to be like her. How I wanted to be that type of writer and that brave a woman.
Now, Elisabeth lives with dementia. She is several years into the disease and can barely speak legibly anymore. Her husband, Lars, cares for her and tries to communicate for her. I cannot imagine how painful it must be that her words have been taken from her, but the one foundation Elisabeth has based her life on – is still strong.
She believes in the sovereignty of God and for whatever reason, the Almighty has allowed her to walk through this dementia challenge. True to form, the courage to trust God buoys Elisabeth's spirit even now. Her words may have been silenced, but her brave heart continues to beat with love for her Savior.
While I hate the disease that has removed Elisabeth's words from her, I am still inspired by her life and by how she deals with daily challenges. She is a woman of strong faith and incomparable courage.
As a writer who wanted to emulate her, I salute my sister of faith, Elisabeth Elliott. And I ask God to be the Word within her and continue to let her former words remain in print.
You can read more about Elisabeth's life and work at: http://www.elisabethelliot.org/about.html
2014 RJ Thesman