As told by Reverend G …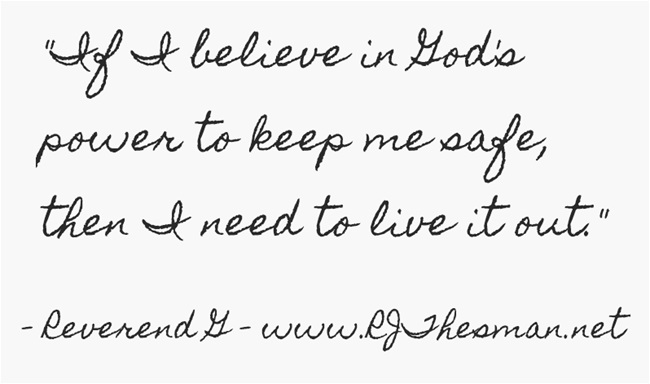 Such a subtle change, but scary nonetheless. I wonder what is happening to me but don't feel the need to check with Doc Sanders.
Tiny signs. A forgotten phrase during the Lord's Prayer. A trip to the grocery store, then realize I forgot my list and can't remember anything I need.
Surely it's only stress or maybe a weird virus where neurons stop firing together. Maybe a simultaneous mix of allergies that somehow have attacked my memory bank.
Why God? Why don't you tell me what's going on? I can't stand it.
Again, you send me to the book of Isaiah – this brave prophet who carried your message so faithfully.
Today I read from Isaiah 48:1-2, "Hear me, my people, you swear allegiance to the Lord…and brag about depending on the God of Israel."
---

So if I believe in God's power to keep me safe and if I depend on him for everything, then I need to live it out.
---
When I forget my own birthday, rely on God to help me.
When I miss a line in the Lord's Prayer or the Doxology in front of my entire congregation and I am so embarrassed, trust that God will cover me with grace. He is never too embarrassed to love me.
When I don't understand what's happening to me, depend on God's wisdom.
If, as his follower, I believe I belong to him…if I boast that he is faithful…then I must continue to walk down this road, believing he will walk with me.
I am afraid. I do not understand and yet – I am held in the palm of his mighty hand.
©2015 RJ Thesman – Author of the Reverend G Books – http://bit.ly/1RH27AT