In the never-ending task of downsizing, I constantly ask the questions: Do I need this item anymore? Does this object still give me joy or can I share that joy with another person?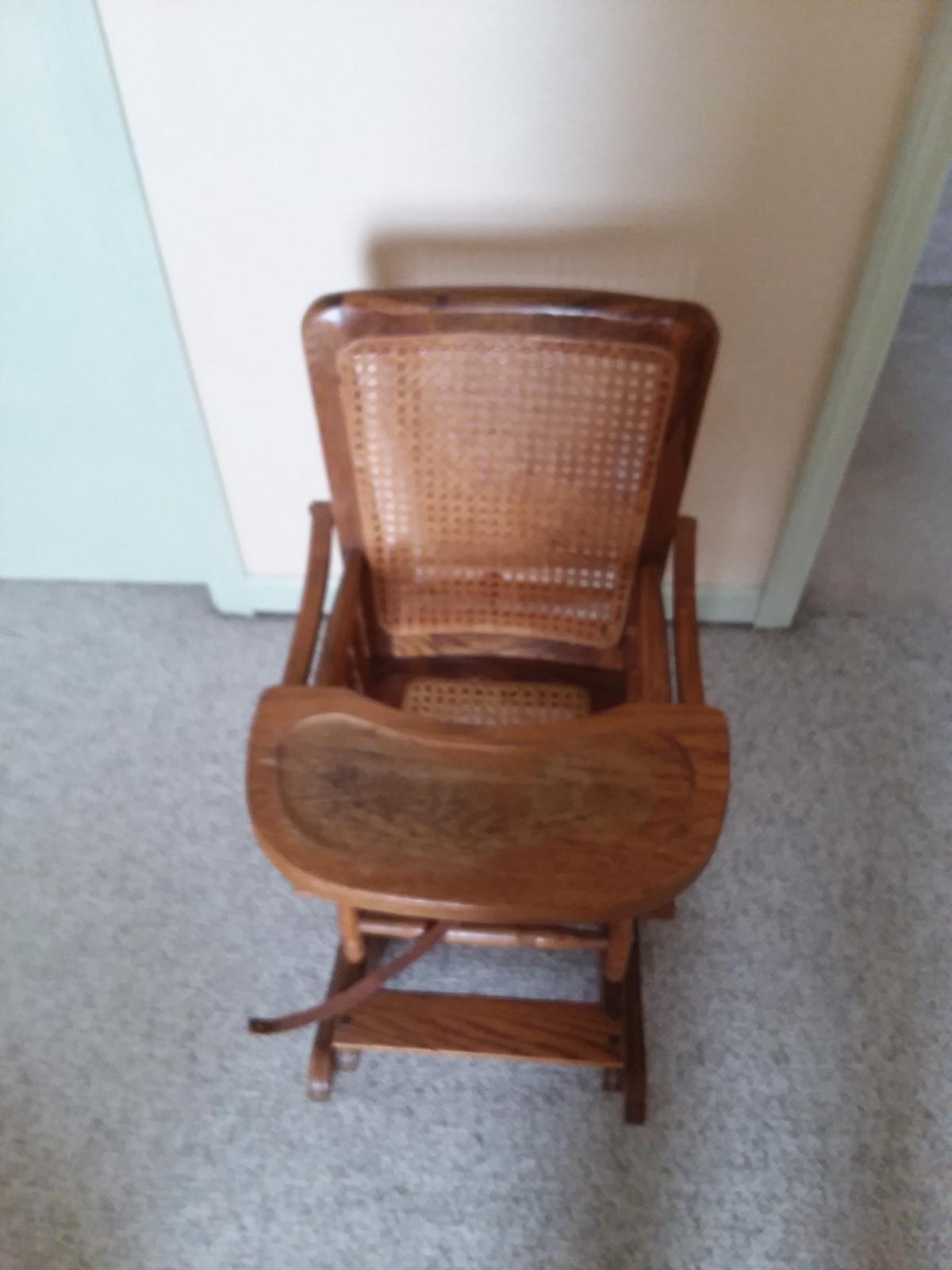 A survey of my guest room focused on the tiny antique rocker. Purchased all those years ago, it intrigued us because it also expanded into a wooden high chair. Perfect for baby Caleb.
But the years had grown my son and weathered the wood. Initially, I saved the rocker / high chair for a future grandbaby. But now, I wondered if that was even feasible.
I would not feed a child in such an old device. Its wooden pegs were beginning to rot. The structure was no longer safe. And who knew how many bacteria still hid within the crevasses of walnut? Not even a bleach bath could reach every tiny surface.
Repaint it? Sand and varnish it? No. My days of restoring furniture and exposing myself to chemicals are long gone.
Use it for something else? Maybe. A plant stand? It no longer fits my décor and the whole purpose is to get rid of stuff.
Did my son want it? "No," he said with a grimace. No one in the family could find a place for it.
So I decided to give it away. I don't mess with E-Bay or Craigslist. It's easier to donate my treasures and claim a deduction. I loaded up the rocker along with sacks of other stuff and left everything with the attendant at the Goodwill store.
But as I drove away, the tears fell. Another piece of life had transitioned away. Another reminder of the aging process and the losses that inevitably shadow our days.
Still, the memories were sweet. I swiped at the tears and thanked God for my little boy, for the years of rocking him to sleep, watching him chase Cheerios across the surface of his high chair.
Then I prayed a blessing over whomever would purchase the rocker. Hope returned with the process of sharing my goods with another, of giving away what once owned my heart.
Life passes so quickly, and our stuff becomes transient. Yet we find hope and joy in living the days well and sharing what we no longer need.
©2019 RJ Thesman – All Rights Reserved
For more essays about hope, check out Hope Shines – also available in Large Print.