When I first read The Artist's Way by Julia Cameron, an a-ha flashed. Through its pages I learned creativity is a gift, a blessing from the Creator to each of his beloved children.
The more I recognized my own gift of creativity, the more I began to nurture it. Artist dates, inspired by Julia, became a regular part of my week.
And I began to open my heart to the possibility of more creative endeavors.
This adventure enabled me to taste the freedom of inner discovery, to create new words and new worlds within a novel, to experiment with colors in my life, even within my home.

Allowing myself to open up to creative gifts also enriched my spiritual life. After all, the Creator started all this interest with his initial task, "In the beginning God created the heavens and the earth."
So when 2020 began to sap my energy, I knew it was time to fight this ravenous beast with another project.
But which one?
During an artist's date, I browsed through Savers (a nonprofit that supports Big Brothers Big Sisters). Even within a pandemic, people drop off their junk which becomes someone's treasure.
I found a perfect board, my color of turquoise, naked with possibilities. Reflection occupied a few weeks while Julia's words cooked, "If we do have to deal with a force beyond ourselves that involves itself in our lives, then we may have to move into action."
Action to defeat what 2020 was threatening to steal from me — my hope.
Since my platform reflects Hope, I wondered if I could find some interesting letters to post and make the word. A search through Hobby Lobby ended in the crimped barn tin that reminded me of our homestead on the farm.
The letters fit perfectly.
By this time, the project had pushed COVID and its treachery to the background. Now I was on a mission to find the rest of this creative puzzle.
Another coach who focuses on creativity, reminded me not to give too much power to COVID. "It's only a circumstance in our world right now," Jill wisely opined.
Another trip to Savers resulted in an unusual pin with feathers, yarn and bling. A perfect match.
Then I remembered a box of odds and ends I keep when jewelry falls apart, the boggles and beads that add texture to creative projects. They filled in the missing pieces for my HOPE design.
Theodore Roethke wrote, "In a dark time, the eye begins to see."
The eye of my soul saw the initial blank canvas of a board, then imagined it as another reminder to push away from the COVID gloomies and stay in hope.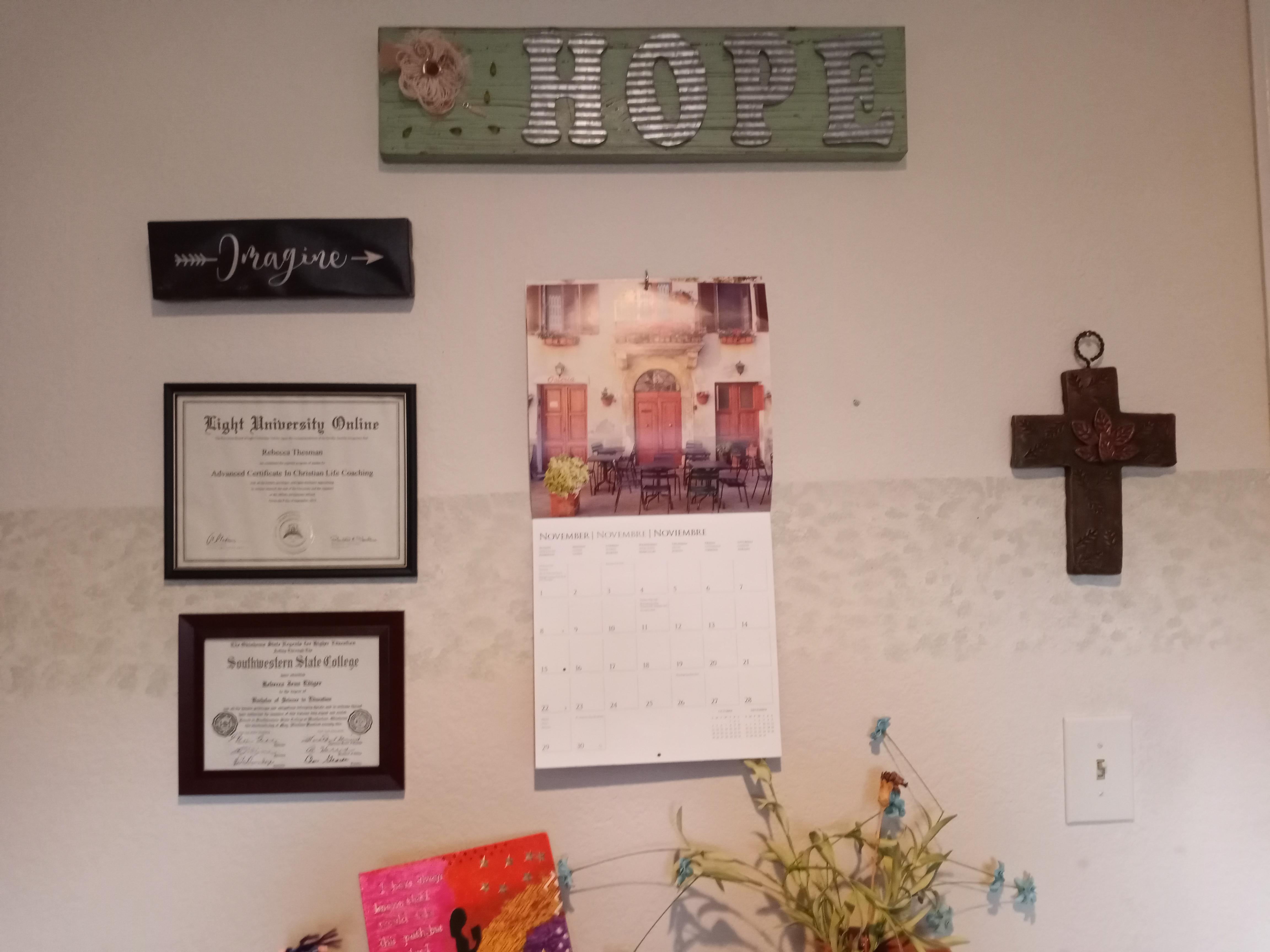 Now this completed creation holds a special place on my office wall. A bold statement filtered through the lens of some of my favorite things.
A piece of optimism in a discouraging time. A reminder that the Creator still creates within us and smiles at our attempts to search for joy.
What about you? Any creative projects just yearning to break free?
©2020 RJ Thesman – All Rights Reserved
Another creative project imagined the lives of women in scripture — those incredible ladies who were often ignored, unnamed and considered invisible. Yet God knew their stories. Check out The Invisible Women of Genesis.