Throughout the pre-wedding activities, Mom functioned well. She attended bridal showers, listened to all the exciting plans and smiled for the photographer.
But we knew our 85 year-old mother might create a few problems on the actual wedding day. It was my job to get Mom dressed, drive her to the church and make sure she made it down the aisle.
I was surprised that from the time I saw her in May until the wedding date in July, Mom regressed further into Alzheimer's. Her facial expressions resembled those of a child, that naughty rolling-the-eyes look. When we discussed what she would wear to the wedding, we had to go through the scenario several times.
"We talked about this skirt, Mom. It's a nice skirt."
"No, I want to wear the red one."
"Not a good choice of color, Mom. It's too dark for a summer wedding and besides, it has a spot on the front. Did you tell them to launder it?"
"Yes." A debatable answer, because Mom's short-term memory grows shorter every week.
Finally, the chosen skirt was on and I convinced her to wear a beautiful white blouse with a lacy collar. As I fluffed up her hair, I asked, "Don't you have some pretty pearl earrings? They would look nice."
"No. All my jewelry has been stolen." Paranoia is strong these days. Mom is convinced that people, usually family members she loves, have stolen her things.
It does no good to argue, so when she was finally dressed – I drove us both to the church. But pictures were scheduled for noon, and the wedding for two o'clock. Two hours is a long time for someone whose concept of time has disappeared.
First, we ate lunch – slowly. I tried to convince Mom to eat more meat and drink more water, but she refused. However, she sat quietly and waited while I finished eating. My brother came to get her for some of the outdoor pictures, then brought her back to me.
Mom and I strolled through the church and looked at the beautiful decorations. Lanterns along the sides of the pews. Purple and green petals strewn up and down the aisle. Beautiful cascades of dark purple gladiola at the front of the sanctuary. Everything ready for that moment when our Rachel would walk down the aisle to meet her beau, Grant.
"How about the library, Mom? Would you like to see the church library?"
"Oh, yes. I like books."
So we toured the library, picked out a few to look at and discussed others. "They have a good selection here," I said.
"Yes," Mom said. "I like books."
I remembered when she helped organize and catalog one of our first church libraries. I also remembered when a prayer group met in the library, and my mother was one of the members  ̶  a praying woman who cared about overseas missions. Mom not only prayed for missionaries, but she also gave a portion of her nursing salary to help meet those same missionaries' needs.
That was a long time ago – before Alzheimer's stole Mom's ability to help in a church library or participate in a prayer group.
In a few minutes, Mom tired of the library so we walked through the church again. We watched the photographer shoot pictures of Rachel and Grant. Then Mom grew restless.
"Hey, Mom. Would you like to go see the church library?"
"Oh, yes. I like books."
Three times we toured the library, each time about twenty minutes apart. Then we sat in the fellowship hall and watched people begin to file into the sanctuary. The wedding planner found us and fastened a flowered bracelet on Mom wrist.
"Why do I have to wear this?" she asked me. "You don't have one."
"It's because you're special. You're the only grandparent on both sides of the families. You get to have a special flower."
"Well, okay," she said. Then about two minutes later, "Why do I have to wear this thing?"
My nephew Ethan, Mom's grandson, was scheduled to escort her down the aisle at the appropriate time. But Mom balked. "I don't want to do that. Everybody will be looking at me."
"No, Mom. They'll be waiting for Rachel. They want to see the bride. You just walk in quietly with Ethan."
"But if it's just Ethan and me, then they'll be looking at me and I look fat in this skirt. I shouldn't have worn this skirt. I should wear a nicer outfit."
 "Now, Mom. This is Rachel's special day. Ethan will take care of you, so you just walk down the aisle with him and then sit by me at the front. Remember, this is for Rachel."
Mom rolled her eyes. I fully expected her to stick out her tongue, but after another grimace, she took Ethan's arm. I joined my son, my sister, my aunt and her daughter in the second row and watched as Ethan and Mom came down the aisle.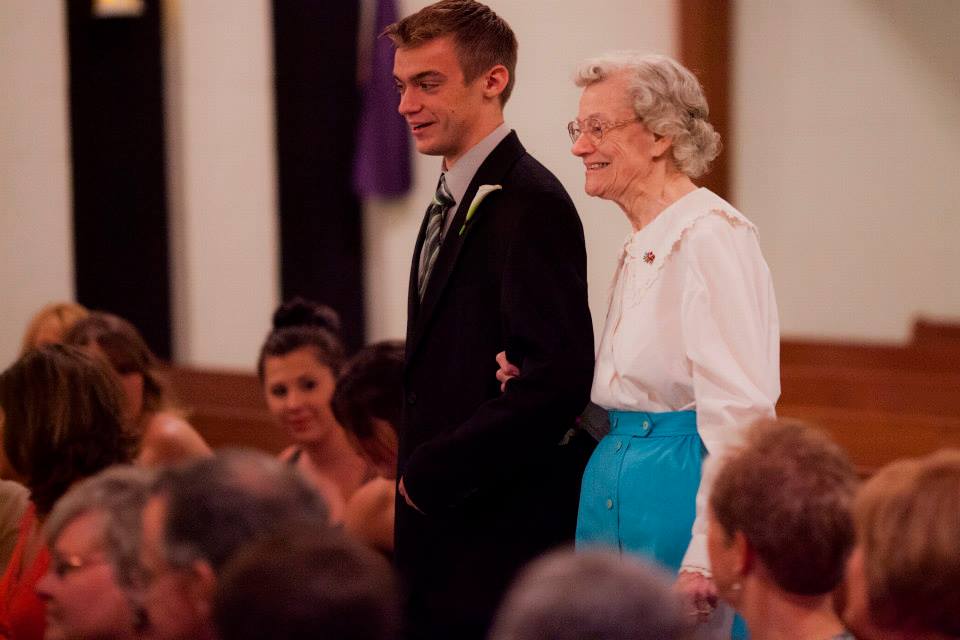 Even within the horror of Alzheimer's disease, my mother is a trooper. Uncomfortable with any kind of public display, there she was – standing tall and doing her part for her granddaughter's special day.
Mom paraded down the aisle with Ethan and smiled while doing it. I was proud of her and also relieved. We made it through our two hours of waiting and our few minutes in the spotlight. Rachel married Grant and Mom got to be part of that special day.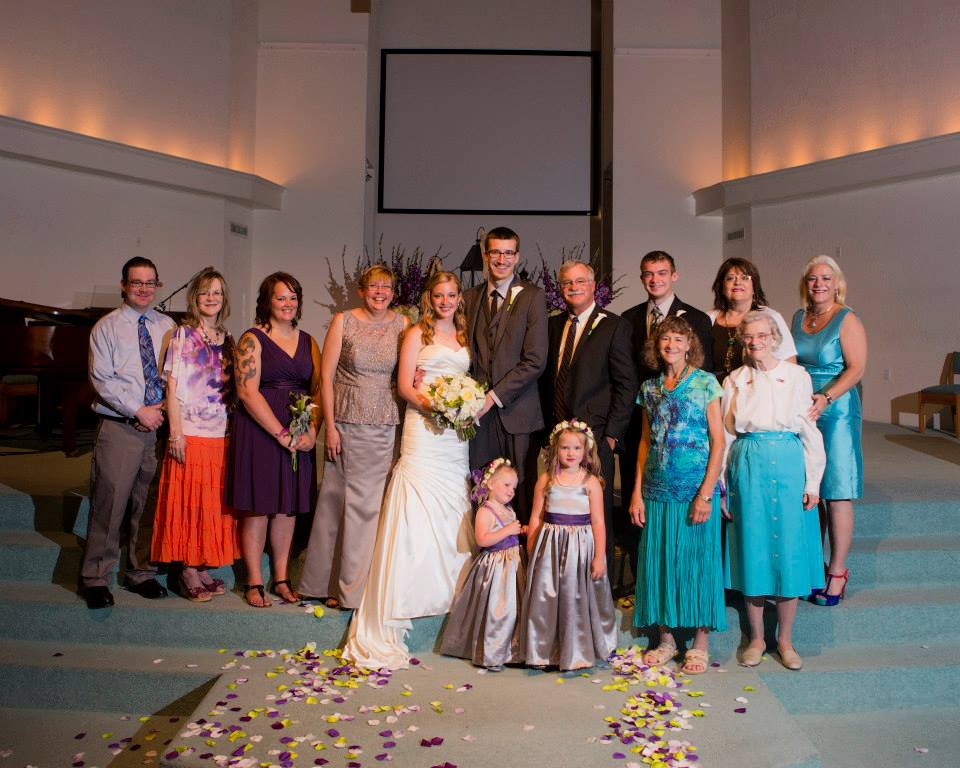 Even in the shadows of Alzheimer's, we somehow find joy.  
©2013 RJ Thesman – "The Unraveling of Reverend G" – http://amzn.to/11QATC1