Most of us try to create traditions within our families. Reverend G and her son, Jacob, guarded the tradition of family dinner after church on Sunday. (I know this because she told me; i.e. fictional characters talking to the writer again  http://amzn.to/1rXlCyh).
For my son and me, one of our favorite traditions has revolved around May 5th, Cinco de Mayo.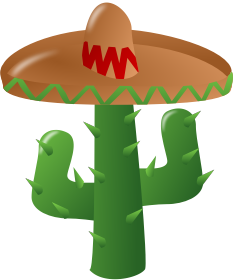 http://www.mexonline.com/cinco-de-mayo.htm
We have no Hispanic heritage, but we both love Mexican food – so any chance to indulge seems like a good idea.
When my son was younger, I always made enchilada casserole for supper on May 5th. It lasted for several meals and grew spicier with each leftover warm-up. Through the years, I've tweaked the recipe so that it is now in the final stage of perfection – at least, we think so. I'm sharing the recipe with you below. Let me know what you think.
I wonder how many of our traditions revolve around food. In our family, food traditions include Christmas peppernuts from the Mennonites, Easter ham and Watergate salad, Thanksgiving zwiebach and pecan pie and the summer harvest monster cookies.
But the special part of our Cinco de Mayo celebration is that it's usually just my son and me – no other family – no other friends. It's nicer that way. More chips and salsa for each of us.
Rebecca's Enchilada Casserole
In a large and deep casserole pan, spray a thin layer of extra virgin olive oil. This prevents the tortillas from sticking and helps you pretend you're eating something healthy.
Tear up 9 corn tortillas (the small ones) and spread them across the bottom of the pan.
In a skillet, cook 1 pound of ground beef with ½ cup of onions. Sprinkle with red peppers (depending on how hot you like your Mexican food).
Drain off the grease and give it to the dog. He will drink lots of water b/c of the red peppers.
Add 2 small cans of green chiles, 1 can of cream of chicken soup, ½ jar of chunky salsa (the hotter, the better), 1 can of black beans (drained) and ¼ cup of milk. Cook on medium heat until bubbly, then turn off the heat.
Pour half of this mixture on top of the tortillas in the pan.
Cut up ½ of a Mexican Velveeta Cheese bar into small pieces and spread them on top of the soup mixture. You cannot substitute any other type of cheese or it will not taste like my casserole and I will not be responsible for the consequences.
Repeat with another layer of 9 torn up corn tortillas. Pour the rest of the soup mixture on top of these tortillas, then top with the rest of the Mexican Velveeta Cheese.
Cover with aluminum foil and bake in a 350° oven for 45 minutes.
Serve with chips and more salsa or guacamole. Sometimes I also make a side dish of Mexican rice which for me is just brown rice, the rest of the salsa and more green chiles.
And to make everyone really happy, serve ice cream for dessert. Reverend G likes Chunky Monkey. Enjoy!
©2015 RJ Thesman – Author of the Reverend G books http://amzn.to/1rXlCyh