As told by Reverend G …
My mother came to visit me last night, and we made sugar cookies together. Then this morning, she was gone and Chris told me it was a dream.
I think he is wrong. It was too real to be a dream.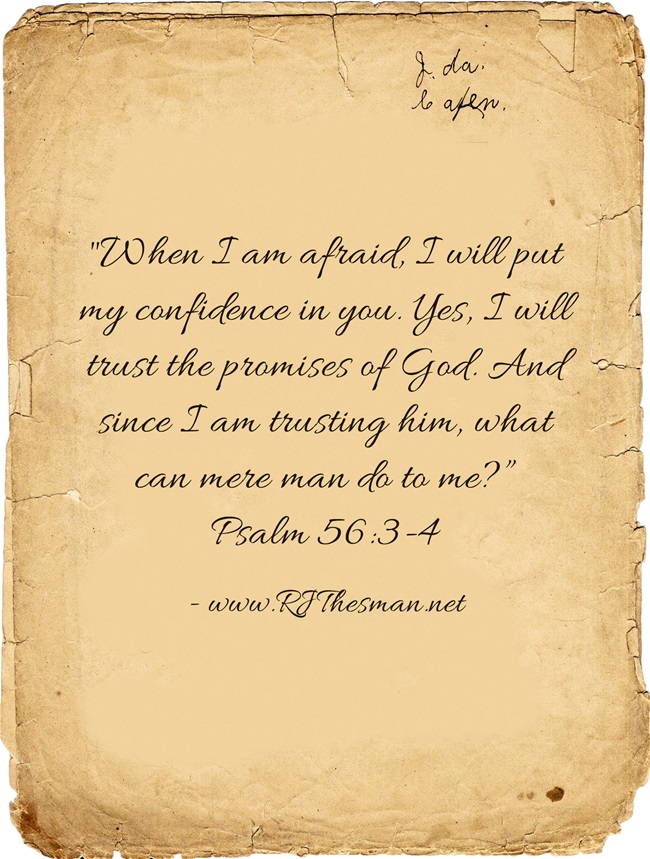 When I was a child, I thought like a child. Now that I am an adult with Alzheimer's, I still think like a child. I would give anything to start my life over and be a child again – a real child – not this fake, pretend sometimes-adult-sometimes-child personhood.
Chris brushes my hair and tries to braid it, because I have forgotten how to weave the strands in and out, up and under.
My mother does the best job with my hair and tonight, I will ask her to fix it for me.
When I was a child, just yesterday I think, I wanted to stand in front of people and tell them about God. I'm not sure if I ever did that, but that boy, my son – he said I used to preach.
I hope I did it well as I cannot remember any subjects I might have preached about.
The only thing I do remember is what I am reading now in my Bible. It is from a book with a funny name, Psalms. The numbers are 56:3 and 4, "When I am afraid, I will put my confidence in you. Yes, I will trust the promises of God. And since I am trusting him, what can mere man do to me?"
The nurses do funny things to me as they bathe me and try to coax me to eat. I don't like those little brown cookies with vanilla pudding on top. Too mushy. I like little blue rocks…some kind of berries…on top of Chunky Monkey ice cream.
But no matter what they feed me, somewhere inside me is the God I trust. And since the Bible says I don't have to be afraid … then that's what I will hang on to.
Even when I cannot brush my own hair, I will keep my confidence in the God I can trust. He will not let me down.
©2015 RJ Thesman – Author of the Reverend G Books – http://bit.ly/1RH27AT