Alzheimer's cannot destroy faith.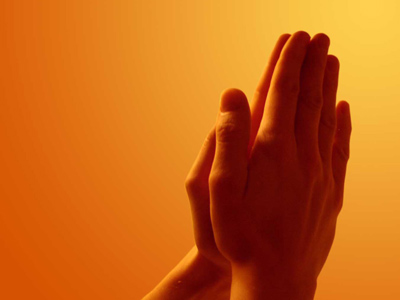 During a Thanksgiving weekend several years ago, I visited Mom at the assisted living facility. It was Sunday and per her usual practice, she wanted to go to church.
So she dressed up, picked up her Bible and we walked down the hall toward the dining room. A visiting pastor had volunteered to preach a brief sermon and lead these elderly saints in worship.
The room was filled with Alzheimer's and dementia residents in various stages of the disease – beautiful shades of white and gray hair, curly perms and a few shining bald heads of the rare men in the crowd.
The pastor kept his words brief, then we sang some of the favorite hymns: "What a Friend We Have in Jesus," "Amazing Grace," "When We All Get to Heaven."
Most of the residents hummed along, some fell asleep, a few still knew some of the words. I sang lustily, my mezzo soprano blending with the bass of the pastor. My mother remembered some of the lyrics and hummed through the rest.
Then the pastor said, "Please join me as we all recite Psalm 23."
I thought, You must be kidding, buddy. These people can't recite a passage of Scripture. They can barely remember their names.
But they surprised me.
I watched them and listened as around the room – every single resident recited word for word the precious Shepherd's Psalm.
"The Lord is my shepherd, I shall not want. He maketh me to lie down in green pastures."
The King James version, with none of them missing a beat.
"He leadeth me beside the still waters. He restoreth my soul."
How many of them prayed that God would restore their lives, do a miracle in their bodies and release them from this disease, this long and tragic goodbye?
"He leadeth me in the paths of righteousness for his name's sake."
A righteous life includes reading the word of God and hiding those words in their hearts so that when the end of life comes, when those final years flip over onto the calendar, these residents would hang on to what really matters.
"Yea, though I walk through the valley of the shadow of death, I will fear no evil for thou art with me; thy rod and thy staff they comfort me."
These saints understood the Psalm better than I because they live within that valley. I could see it in their eyes, in the faces accessorized with wisdom-carrying wrinkles. They knew this valley and only God could help them walk through it unafraid. And they believed he would comfort them along the way and never leave them alone.
"Thou preparest a table before me in the presence of mine enemies; thou anointest my head with oil; my cup runneth over."
Food no longer provided comfort because the appetite was gone, the taste buds had forgotten a favorite flavor or the joy of family meals. Yet smiles surfaced around the group – maybe a dim remembrance of God's anointing on a life, the cup of joy that once ran over and now waited for its fulfillment.
"Surely goodness and mercy shall follow me all the days of my life and I shall dwell in the house of the Lord forever."
My mother, her voice clear, her eyes bright – solid in her faith and waiting for her timeline to end.
Each one of them in the room, recited what they believed. I could not speak. Tears choked me as I realized there's a place deep within us, a sanctuary of the soul that cannot be stolen by whatever is happening in the brain.
Alzheimer's cannot and will never destroy faith.
Amen and amen.
©2015 RJ Thesman – Author of the Reverend G books http://amzn.to/1rXlCyh