The doctor's eyes filled with empathy tears as he handed me the Kleenex box. "You know," he said, "no one – not even the medical community – knows how to explain miscarriage. No one truly understands what happens to the woman or how she feels.
"For whatever reason, God chooses to take these babies early."
After my second baby died, they decided to run tests. The results also provided no answers, no reasons why those little babes slithered out of my womb.
Each of them lived only 60 days. 12 weeks – enough time for me to fall in love with them and desperately long to hold them.
Ryan was born and died on November 3, 1981. He was the promised child, after six years of infertility – the baby who would finally fill the nursery with his whimpers and his tiny smile. I have wondered many times what kind of man he would be now, at the age of 32.
Only God knows, and God chooses to keep that secret from me – for now.
My daughter, Rachel, was born and died on January 6, 1983. She was the child who was expected to survive and grow to someday be my friend. She was the daughter of tea parties and coloring outside the lines and making chocolate chip cookies and shopping for just the right shoes. I wanted to help her fasten her wedding gown.
Someday, I will see her in a heavenly gown – both of us in our robes of white.
Every year in October, I celebrate the brief lives of my first two babies. I remember them this month because the chrysanthemums bloom.
Someone gave me a beautiful mum when Ryan died – red mums with orange centers and yellow tips. Someone else gave me a mum when Rachel died – deep, dark purple.
Both of those plants died, just like my children. Living and vibrant one moment. Cold and gone the next.
So every year, I find a beautiful mum and plant it in my yard. In the spring, when the first green leaves appear, I cut it back to protect it during the summer heat and encourage more growth. Then in October, it begins to bloom.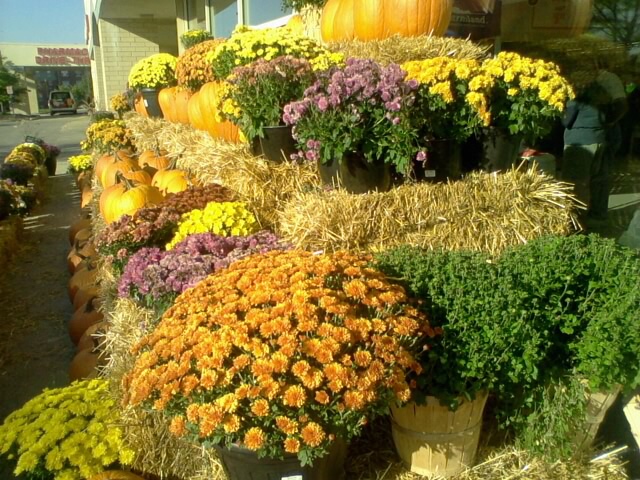 As I water my mums, I think about my children and thank God they are safe in heaven. I will never have to worry about their health or wonder if they are okay. I picture them happy and free – waiting for me to get there so we can finally meet in person.
The season of the mums helps me to find hope within these unraveling memories. It reminds me that no matter what happens to our children, mother love continues.
Even when our children leave us – through death or distance – our hearts are forever connected.
And somehow, whether it's a journal entry, a faded sonogram photo or a beautiful mum – we keep the memories of our children alive.
We honor them and bow to the omniscience of Almighty God who knows best. He keeps the timelines for each of us and of course – he is the one who offers final hope.
So on this first day of October, I celebrate you, Ryan and Rachel. Your momma misses you, but I know you're okay.
Someday we'll meet and wow – won't that be fine!
©2013 RJ Thesman – "The Unraveling of Reverend G" – http://amzn.to/11QATC1